TM Noble (Motor Engineers) Ltd - Vehicle Recovery, Repairs &amp Servicing and Car Sales Morecambe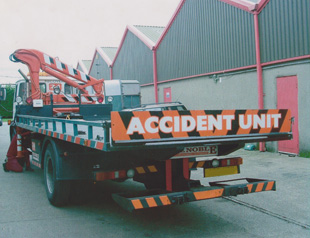 Breakdown Recovery Service
If you are unfortunate enough to fall victim to:
A) An emergency road-side breakdown

or

B) Are involved in a road traffic accident
in or around Morecambe, and do NOT want your vehicle to be automatically towed away out of town, then please ask for:
T.M. NOBLE (Morecambes Emergency/ Accident Recovery Specialists)
It will take us ten minutes from the time of your call or less to get our Mobile Service Van or Recovery Vehicle to you, day or night.
We will provide you with a free courtesy car, even if the accident was your fault, within 1 hour of your car becoming un-roadworthy, without a quibble.
Rest safe in the knowledge that your vehicle will be stored in Morecambe in our fully alarmed insured garage.
Our excellent insurance record means that we will be able to begin repairs on your vehicle immediately.
Enjoy our free full valeting service, performed on your vehicle once repairs have been completed, bringing your car back up to showroom condition.
Enjoy our free home delivery service - we will return your car to you once all work has been completed, free of charge!
TM Noble (Motor Engineers) Ltd - Car and Van Sales, Morecambe
Almost 40 years of experience in the motor trade
Emergency breakdown and Accident Recovery service 24 hours a day, seven days per week
Car, van and motorhome servicing and repairs
We have the capacity to take on fleet work & large company contracts
We will look at all makes and models of vehicle
We have a full auto electrical department
For Emergency breakdown and Accident Recovery, or any other query
Call us now on 07831 44 25 05

Contact Details
TM Noble (Motor Engineers) Ltd
Address:
12B Vickers Industrial Estate
Morecambe
Lancashire
LA3 3DU
Email
info@tmnoblemotors.co.uk
Phone
01524 62690
Mobile/Emergency
(24 hour service)
07831 44 25 05