TM Noble (Motor Engineers) Ltd - Vehicle Recovery, Repairs &amp Servicing and Car Sales Morecambe
Home Page
Established in 1978, TM Noble (Motor Engineers) Ltd have been providing motor mechanic services to Morecambe and the surrounding area for over 30 years.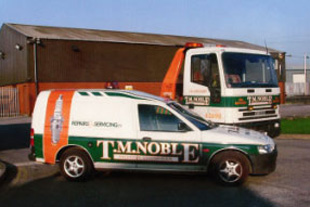 We can provide a breakdown recovery service so we can really help you from the moment you have broken down right up to getting your vehicle back on the road.
We also specialise in the sale of used cars and recovered damaged repairable cars.
With a wide range of quality cars and vans, ranging from great condition to damaged but repairable condition, if you are looking for a nice new vehicle or an absolute bargain, we will have what you are looking for
If you are looking for repairs or servicing for your car, call us now for a chat and a free quote!
TM Noble (Motor Engineers) Ltd - Car and Van Sales, Morecambe
Over 30 years of experience in the motor trade
Emergency breakdown and Accident Recovery service 24 hours a day, seven days per week
Car and van servicing and repairs
We have the capacity to take on fleet work & large company contracts
We will look at all makes and models of vehicle
For Emergency breakdown and Accident Recovery, or any other query
Call us now on 07831 44 25 05

Contact Details
TM Noble (Motor Engineers) Ltd
Address:
12B Vickers Industrial Estate
Morecambe
Lancashire
LA3 3DU
Email
info@tmnoblemotors.co.uk
Phone
01524 62690
Mobile/Emergency
(out of hours)
07831 44 25 05